Dr Kirsten Connan is a FRANZCOG Obstetrician & Gynaecologist with a passion for improving women's health through empowerment, support and education.
Kirsten has special interests in normal and high risk obstetrics, pelvic pain, endometriosis, complex laparoscopic surgery and specialist ultrasound.
Kirsten loves women's health
Kirsten believes that women's healthcare is best delivered in partnership with women themselves.
The woman-doctor partnership begins first with respect. Respecting that each woman has her own story, her own aspirations and her own needs. Dr Connan aims to empower women so that they can better understand their own bodies and so improve and maintain their health in partnership with her care.
Patient-centered care best describes Kirsten's approach to her patients. She believes passionately in the importance of inclusiveness and transparency in healthcare, ensuring women and their families completely understand their options and the reasons for her medical recommendations, so that each can make informed decisions.
She advocates for individualised care. Every woman and her circumstances are unique – and so should be their obstetric and gynaecological care. By respecting the uniqueness of each woman and empowering through education, Kirsten seeks to provide the highest quality obstetric & gynaecology care that every woman deserves.
Dr Connan's clinical experience spans capital cities, regional centres, developing countries and both public and private medicine in Australia.
The most influential years of her training and specialist practice were proudly undertaken at Australia's largest maternity hospital, Melbourne's Royal Women's Hospital, with specialist training in high-risk obstetrics, advanced laparoscopic surgery and obstetric ultrasound.
In addition to important foundations of study, training and surgical experience, Kirsten strongly believes in the importance of obstetricians and gynaecological surgeons maintaining and growing their knowledge and skills through continual professional development.
Kirsten's disciplined focus on very specific and complementary areas – obstetrics, including high-risk obstetrics, pelvic pain & endometriosis, advanced laparoscopic surgery and obstetric ultrasound – allows her to maintain a high level of expertise in all her areas of clinical practice.
Dr Connan completed her specialist OBGYN training in 2010, becoming a proud Fellow of the Royal Australian and New Zealand College of Obstetricians and Gynaecologists (RANZCOG).
MClinEd
GDClinEd
GCertClinTeach
UniMelb 2013-2017
Kirsten has more recently furthered her passion for education and teaching, completing a Graduate Certificate, Graduate Diploma, and finally a Master of Clinical Education in 2017 through the University of Melbourne.
Dr Connan's educational interest is both for the training of junior doctors, and importantly also for the patients she cares for – so that all women may better understand their bodies and so improve their health and well-being.
In 2011, Kirsten was awarded a Diploma of Diagnostic Ultrasound (Obstetrics & Gynaecology) from the Australian Society for Ultrasound in Medicine (ASUM), following training and work at East Melbourne Ultrasound under the guidance of internationally renowned specialist obstetric sonologist Dr Andrew Ngu.
Kirsten's additional ultrasound skills and qualifications beyond those of a general ObGyn help guide both her complex-pregnancy care and her management of women with endometriosis and pelvic pain.
Before commencing specialist O&G training in 2004, Dr Connan completed her Diploma of the Royal Australian and New Zealand College of Obstetricians and Gynaecologists as a junior doctor. This provided an invaluable foundation for her later specialist training.
In 2012 and 2013 Kirsten was a DRANZCOG examiner for the Royal Australian and New Zealand College of Obstetricians and Gynaecologists, before becoming an examiner of specialist FRANZCOG candidates in 2014 .
Dr Connan began her life-long dream to study medicine and train as a doctor when she commenced her medical degree as part of Sydney University's first Graduate Medical Program cohort in 1997. Four years later she proudly graduated with her Bachelor of Medicine, Bachelor of Surgery, with Honours.
Kirsten began her tertiary education at the University of Melbourne, completing a Bachelor of Science in 1996 with majors in Anatomy and Physiology. Her later calling to specialise in Obstetrics and Gynaecology was hinted at by her early passion for Embryology during her Bachelor of Science years.
In 2016 Kirsten was honoured to win the Telstra Tasmanian Business Women's Entrepreneur Award for her business leadership at TasOGS.
The values and priorities that Dr Connan expresses in both her clinical and business domains were instrumental in her selection and recognition for this Business Women's Award. Kirsten strongly believes that running an effective and efficient healthcare business with integrity is not just a nice-to-have, but is essential to delivering high-quality healthcare and meeting the health needs of Tasmania's women.
Clinical excellence cannot exist without business excellence. Whether it is the too-often neglected issue of patients waiting excessively to be seen, or the lack of transparency in medical and surgical fees, the quality and business competency of medical practices has a very real impact on clinical care.
Dr Connan strives to keep the reliability and efficiency of TasOGS as a practice and business, closely aligned with the high quality healthcare that she passionately believes women of Tasmania deserve.
Women deserve to be cared for by doctors who are themselves at their best. Well rested, focused and balanced – doctors able to give their full attention to the physical and mental health of their patients.
Kirsten recognises the challenges of modern life – balancing the competing priorities of health, family, work and holistic wellbeing. It is not uncommon for doctors to struggle to find a harmony between work and greater life, with the physical and mental health of many suffering as a consequence. This is not ideal for patient care.
Kirsten is an avid runner. Whether running the trails of Freycinet, Tough Mudder adventure races, half marathons, or the footpaths of Hobart, she knows the importance of maintaining both her mind and health. She enjoys expressing her competitive streak, playing hockey for Hobart's Diamond Backs, and chasing her family on mountain bike through Tassie's mountain trails.
Most importantly, Kirsten knows her limits. She actively manages her work intensity to ensure patients have a well-rested obstetrician delivering their precious baby, and a calm, focused surgeon performing their operation. Too often Kirsten sees healthcare providers neglecting self-care. Acknowledging that this is not always easy, especially for those of us that work on-call, this should nonetheless be a priority for all doctors. Dr Connan's transparent covering arrangement is vital to achieving this.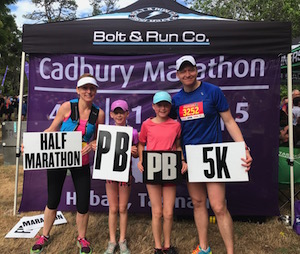 Kirsten was born in Tonga in the South Pacific, to missionary parents, giving her a diverse cultural exposure at an early age.
After primary schooling in Pasadena, California, her family returned to Melbourne and the Mornington Peninsula, where she continued her schooling. Following graduation from Frankston High School, Kirsten completed a Bachelor of Science with Honours at the University Melbourne. Majors in Anatomy and Physiology, and a love of Embryology, then lead her to Sydney University, where she completed her medical degree with honours.
Kirsten has long explored her interest in different cultures through work, study and travel. As a medical student she enjoyed the opportunity to live and work in remote South Australian Indigenous communities through a John Flynn scholarship. Later as a senior medical student she worked and studied both back in her birth country, Tonga, and also in Andhra Pradesh, India, exploring the diversity of the world's second most populous country.
Kirsten's childhood years growing up in Tonga have given her a rich appreciation of the importance of diversity, not just culturally but across many facets of the human condition. As a specialist obstetrician & gynaecologist she has continued to practice across a wide range of cultural settings, whether with indigenous communities in Australia's Northern Territory, teaching midwives in Tonga or gynaecologists in Mongolia.
Dr Connan brings this same cultural sensitivity and respect for diversity to her practice in Hobart.
Kirsten's Latest Blog Posts